Project
The project
As a sea-faring nation, a large portion of Dutch history is found on the water. These maritime activities were crucial in increasing regional and global economic, social and cultural exchange. The maritime sector has also been in the forefront of growing administration and control initiated by ship owners and states. As one of the best historically documented sectors of human activity, many aspects of historical maritime industries have been recorded by shipping companies, governments, newspapers and other institutions.
In the past few decades, much of the preserved historical source material has been digitized. This has produced large amounts of data, providing information on shipping, recruitment and historical developments. However, the digitized historical source material, is still scattered across many databases and archives. Information that deals with the same shipping movements and crew composition is spread over several historical sources and hence over several databases. By linking the different available databases, the data can complement and amplify each other, and new research possibilities open up.

Dutch Ships and Sailors aims to provide an infrastructure for maritime historical datasets, linking correlating data through semantic web technology. It brings together datasets related to recruitment and shipping in the East-India trade (mainly 18th century) and in the shipping of the northern provinces of the Netherlands (mainly 19th century). For the northern provinces, the database contains data on the personnel recruited, the ships, and other variables (Monsterrollen Noordelijke Nederlanden). For the VOC, the datasets involved contain data on the recruitment of personnel in the Dutch Republic (VOC Opvarenden), the voyages of ships to Asia and back (Dutch-Asiatic Shipping), the mustering of ships and crew composition in Asian waters (Generale Zeemonsterrollen). Both clusters of data, will be linked to the textual historical source of Historische Kranten of the Koninklijke Bibliotheek, which offers news on 'ship movements' and (overseas) 'events' for both periods.
The Dutch Ships and Sailors project provides a tool chain and methodology for converting legacy datasets. The infrastructure includes common vocabularies to normalize and enrich existing data. Links are established between the datasets and to other relevant datasets. In doing so, Dutch Ships and Sailors builds a (semantic) web-based structure that aims to function as a future platform and infrastructure for maritime historical datasets.
More information can be found in the project proposal of Dutch Ships and Sailors (Clarin IV) (website version), the Clarin IV Kick Off Meeting project presentation and this project presentation by Victor de Boer.
Dutch Ships and Sailors was created in a Clarin IV-project. It is hosted by Huygens ING in collaboration with VU University Amsterdam, the International Institute of Social History and Het Scheepvaartmuseum Amsterdam.
New datasets
The project has made accessible the dataset Generale Zeemonsterrollen and a new version of the Monsterrollen Noordelijke Nederlanden. Both datasets contain information on ships and members of crews, some of their characteristics such as origin, wage or function. The data has been derived from monsterrollen, so called muster rolls. In the case of the Monsterrollen Noordelijke Nederlanden, these muster rolls refer to crews and their recruitment of ships from the Northern Netherlands (c. 1800-1930). The Generale Zeemonsterrollen are a yearly account of the crews employed on ships of the Dutch East India Company (VOC) engaged in the intra-Asiatic trade (1691-1791).
An example of a muster roll from the sources used for Monsterrollen Noordelijke Nederlanden: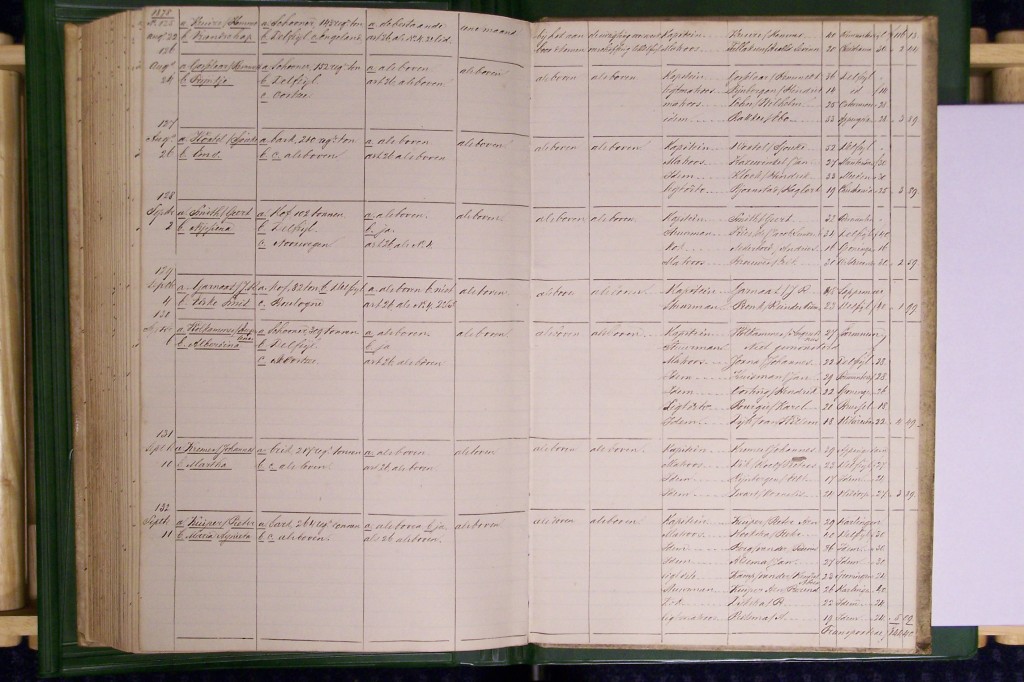 An example of a muster roll from the sources used for Generale Zeemonsterrollen: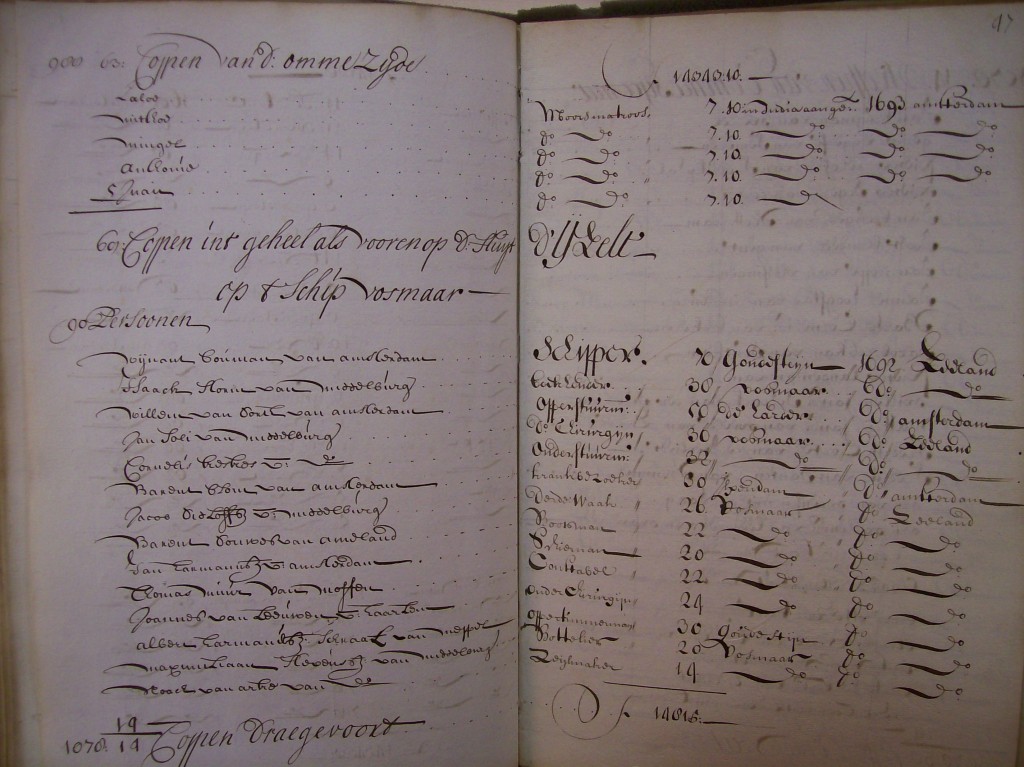 Project Deliverables
Here, we list the deliverables produced for the DSS project. The original project proposal lists details on the deliverables (SW=software, DOC=document):
Publications and theses
The project has produced the following publications and Msc. Theses:
Victor de Boer, Matthias van Rossum, Jurjen Leinenga and Rik Hoekstra. The Dutch Ships and Sailors Project. DHCommons Journal volume 1, july 2015 [HTML].

Victor de Boer, Jur Leinenga, Matthias van Rossum and 

Rik

 Hoekstra. 

Dutch Ships and Sailors Linked Data Cloud. Accepted for publication in 

Proceedings of the International Semantic Web Conference (ISWC 2014), 

19-23 October, Riva del Garda, Italy, 2014 [pdf]
Andrea Bravo Balado, Victor de Boer, and Guus Schreiber. Linking historical ship records to a newspaper archive. Proceedings of the 6th International Conference on Social Informatics (workshops). LNCS. ed. Luca Maria Aiello, Daniel McFarland, 2014 [pdf] [online appendix]
A. Bravo Balado. Information extraction on newspaper archives for historical research. a dutch maritime history case study. M.Sc. thesis VU University Amsterdam, 2014.  [documents]
Jeroen Entjes. Linking Maritime Datasets to Dutch Ships and Sailors Cloud – Case studies on Archangelvaart and Elbing" . M.Sc. Thesis Vrije Universiteit Amsterdam [pdf]
R. Ponstein. Reconciling dutch ships and sailors. M.Sc. thesis VU University Amsterdam, 2014
Follow-up projects
In 2014, the DANS-funded project Diepere Maritieme Data has made accessible 20 GB of photographs of the original archival records of the Noordelijke Monsterrollen Databases, and enriched these with links to the Dutch Ships and Sailors data.
In 2021, Stijn Schouten created a new knowledge graph that integrates three VOC data sets. A paper about this project is forthcoming.